Camp ALEC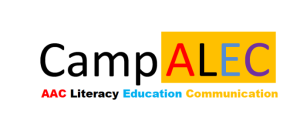 Thanks for taking the time to learn more about Camp ALEC.
What: An intensive, overnight camp for adolescents with significant disabilities including those who use AAC. This is a level II course for adults who have completed a one-week intensive literacy course with David Koppenhaver and Karen Erickson
When: August 13 – August 20, 2016
Where: Indian Trails Camp in Grand Rapids, MI (http://www.Indiantrailscamp.org)
Indian Trails Camp is located six miles west of Grand Rapids at:
O-1859 Lake Michigan Drive
Grand Rapids, MI 49534
Registration: $1000 for adult participants (plus $350 room + board)
Housing: A combined fee of $350 is paid to cover the cost of housing and meals. Adult participants are required to stay in the cabins and eat meals at Indian Trails Camp throughout the week. The camp will accommodate dietary restrictions as needed. Participants with dietary needs must communicate them well before camp begins.
Application: Participation in the camp is limited. This is a Level II professional development experience that requires completion of a weeklong Level I course with David Koppenhaver and Karen Erickson and experience applying what you learned. To apply for a slot, please follow the link and complete the application as soon as possible. You will be notified as acceptance on a rolling basis. ONLINE APPLICATIONhttps://unc.az1.qualtrics.com/SE/?SID=SV_6m9skZrP91jHqXX)
Registration: You will receive information regarding registration and payment procedures after your application has been accepted.
General Information: The camp offers a combination of lecture (a la Dave & Karen) and hands-on practice with campers. The advanced participants will work together to problem-solve and plan assessments and interventions to address the needs of the learners with complex needs. The campers range from emergent readers and writers to college-bound students with complex needs who want to know how they can be more successful. As with all of our courses and camps, the week is intensive and participation in all aspects is expected.
The general schedule is as follows:
August 13: Adults arrive and professional development session for adults begins (specific time TBA)
August 14 : full day of professional development for adults with a break to meet campers when the arrive in the afternoon
August 15-19: Morning and afternoon sessions with campers – the remainder of the day and early evening is devoted to ongoing professional development, planning, problem-solving, and debriefing.
August 20: Exit meetings with families and farewell.
Adult participants should plan to arrive at camp on the morning of August 13 (or evening of the 12th with special arrangements) and leave camp in the early afternoon on August 20, 2016.