Life in Chapel Hill
Welcome to Chapel Hill!
While we cannot fully substitute the true in person experience and wish you could see our area for yourself, we'd like to illustrate the place we call home by putting together some of our department members' favorite things to do and eat around town. These are generally concentrated around Chapel Hill, and the Triangle Area (Raleigh, Durham, and Chapel Hill). Listed in Niche's Top Best Places in North Carolina for work, schools and places to live.
UNC's Campus
UNC's campus; our campus can provide a good opportunity to walk around and decompress from all of the traveling.
The UNC Campus has many outdoor spaces to enjoy, stroll by the bell tower (pictured left) and the iconic old well (pictured middle), or have a picnic in the Coker Arboretum (pictured right).
Chapel Hill
Be sure to walk up and down Franklin Street to take in the sights.

Franklin Street is an every changing street of local business. Some of our favorites include:
Epilogue: A book store/coffee shop combo nestled right in the middle of Franklin St. This is the perfect spot to study, chat with a friend, or pick up a new or used book from their wide variety.
Caffé Driade: 1215 East Franklin Street, Chapel Hill. A wonderful outdoor coffee shop inspired by Italian espresso. Driade is right off the Bolin Creek Trail, so walk, bike, or drive, it is the perfect mid day pick up.
411 West Italian Café: 411 W Franklin St, Chapel Hilll. If you're in the mood for standard Italian fare at a reasonable price, look no further.
Vimala's Curryblossom Café: 431 W Franklin St, Chapel Hill. Vimala used to invite neighbors to her house every week for fresh authentic Indian food. It became so popular that she had to open a restaurant. Most ingredients are sourced locally, and Vimala offers a "pay what you can" to customers who otherwise couldn't afford to eat.
Sunrise Biscuit Kitchen: 1305 E Franklin St, Chapel Hill. Tiny in size, this drive-through offers a fluffy, satisfying breakfast for anybody wanting a quick bite. The lines are long Saturday and Sunday morning, so be prepared to wait, but it's worth it. Try the chicken biscuit.
Top of the Hill: 100 E Franklin St #3, Chapel Hill. Best known for its view overlooking the corner of Columbia and Franklin Street, this is the "crossroads" of Chapel Hill. They also they brew their own beer and spirits.
Lantern: 423 W Franklin St, Chapel Hill. The owner and head chef Andrea Reusing won the James Beard award for best chef in the southeast in 2011, and are up for it again in 2017. The food is Asian fusion with all local North Carolina ingredients. TIP: Go to the back of the restaurant to the bar and order drinks and appetizers if you want some nicer food without the wait or price. The apps have good portions and are always tasty.
Nantucket Grill: 5925 Farrington Road, Chapel Hill. They bake several varieties of fresh cakes and display them all in their cake windows. There are four layers to their cakes and their slices are generous, so ask for a half slice if you're not too hungry. If you order an entrée on a Wednesday or Saturday there, you get your slice of cake for free!
University Mall: Corner of Estes Dr and 15-501, Chapel Hill. Many shops throughout this small mall. Grab a bite to eat at one of the numerous good restaurants, and check out a movie in the upscale Silverspot Cinema.
The Crunkleton: 320 W Franklin St, Chapel Hill. Started by Gary Crunkleton a few years ago, this bar has been written up a number of times for their cocktails. Great bar to try some old fashioned drinks and take in a very impressive wall of liquor behind the bar.
TRU Deli & Wine Bar: 114 Henderson St, Chapel Hill. Nice patio. Create your own sandwich/wrap/salad and grab a specialty wine or cocktail.
West End Wine bar: 450 W Franklin St, Chapel Hill. Good place to grab a bottle of wine or shoot pool in the basement.
The Cave: 452 W Franklin St, Chapel Hill. Take the stairs at the left of the West End Wine Bar to get to this basement bar with low hung ceilings and colorful characters. Meander to the back and hangout on the couches, play pool, or watch TV on the old school big screen.
He's Not Here: 112 W Franklin St, Chapel Hill. Difficult to find (between Caribou Coffee and I Love NY pizza. A Chapel Hill landmark for most students, walk back to the courtyard where picnic tables are littered with the famous "blue cups." Take the stairs up and get your own.
Four Corners: 175 E Franklin St, Chapel Hill. Typical sports bar filled with students whenever UNC is playing.
Chapel Hill is full of things to do, be sure to check out Chapel Hill Greenways which has miles of walking, hiking, and biking within all in Chapel Hill, North Carolina Botanical Garden (100 Old Mason Farm Road Chapel Hill) these walkable gardens display native North Carolina plants, explore the cosmos at the Morehead Planetarium and Science Center (250 E Franklin Street, Chapel Hill), or take in some live music at Local 506.
Carrboro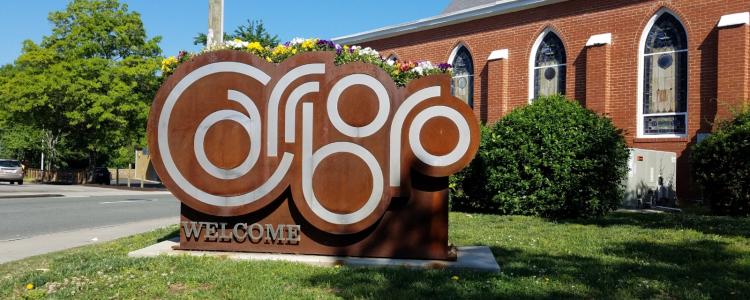 Chapel Hill's neighboring town of Carrboro is in walkable distance from Franklin St. Some wonderful things to check out in Carrboro are:
Carrboro Farmers Market: Saturday Mornings and Wednesday afternoons
Open Eye Café: 101 South Greensboro Street, Carrboro
ACME: 110 E Main St, Carrboro. More expensive than other options here, but good local southern dining. Calling for a reservation is typically wise, but you can sit at the bar and order food if there's nowhere to sit. If you're around on a Sunday, you can grab a great brunch.
Carrburritos: 711 W Rosemary St, Carrboro. A funky local standard. The name says it all.
Neal's Deli: 100 E Main St, Carrboro. Great local deli with a wide variety located in the heart of Carrboro. Try the hot dog (either the Chileanos Completos or Apple and Cheddar on pretzel bread), and you won't be disappointed. Take your fare across the street to Steel String Brewery to enjoy with a local micro-brew.
Pizzeria Mercato: 408 W Weaver St, Carrboro. Two talented chefs and previous James Beard award winners recently opened this family-owned pizzeria. Even visiting New Yorkers will not want to miss this one.
Weaver Street Market: 101 E Weaver St, Carrboro. Get your hula hooping on at this yuppie meets hippie (yippie) café/market. Pick up a coffee and/or food and enjoy the sights, sounds, and characters of Chapel Hill's closest neighbor—Carrboro.
Orange County Social Club: 108 E Main St # 1, Carrboro. An eclectic bar in Carrboro with good drinks and great people watching.
Cat's Cradle: A live music venue in Carrboro 
The Triangle Area
Chapel Hill is a smaller city, but with Durham and Raleigh nearby, there is always something to do. And to help you get around, all Chapel Hill Transit buses are free to everyone. Raleigh, the states capitol, has a bustling downtown full of shops, restaurants, bars, and more. Durham, despite being home to our rivals The Duke Devils, is a mere 15 minute drive away.
Although the things to do in the Triangle are impossible to include in one list, here are a few things that we enjoy to visit:
American Tobacco Trail: 20 mile rail-trail greenway in Durham
Duke Forest: Extensive set of trails for running, hiking, or biking in Durham
Carolina Performing Arts: UNC's on campus host for touring national (and international) dance and musical performances.
Durham Performing Arts Center : Large contemporary theatre with musical and Broadway performances.
Durham Bulls: Minor league baseball with something for all ages
Carolina Hurricanes: National Hockey League team in Raleigh
(This page is not inclusive of all offerings in the Triangle area and our program does not officially endorse or recommend any particular service or venue.)
Museum of Life and Science, Murray Avenue, Durham
NC Museum of Natural Sciences (Free), 11 W Jones St, Raleigh
Playnation, Dominion Drive, Morrisville
Marbles Kids Museum: East Hargett Street, Raleigh
Motorco: A live music venue in Durham
Duke Gardens: 420 Anderson Street, Durham. Beautiful extensive gardens located on Duke's campus.
Beyu Caffe: 335 West Main Street, Durham. A cozy café in Durham
Guglhupf Bakery: 2706 Durham-Chapel Hill Blvd, Durham. Fantastic German bakery, restaurant, and café, great for relaxing. Chapel Hill location will soon be open!
(This document is not inclusive of all offerings in the Triangle area and our program does not officially endorse or recommend any particular service or venue.)