Frank C. Wilson Professionalism Forum
---
Made possible through a generous grant from Dr. Frank C. Wilson to promote discussion and learning around professionalism, particularly regarding medical education, The Frank C. Wilson Professionalism Forum has featured a variety of medical professionals since 2011.
---
2022
Joseph Stern, PhD
Board Certified Neurosurgeon and Author
Dr. Joseph "Jody" Stern is a board certified neurosurgeon and author. In 2015, Dr. Stern lost his sister to a nearly year-long battle with leukemia. Through this loss, his encounters with medical professionals, and his own experience as a neurosurgeon, Dr. Stern realized the need of integrating compassion and empathy into the medical field. He has since become committed to deepening and humanizing the doctor-patient relationship.
Dr. Stern is also the Co-Director of the Cone Health Brain Tumor Program, where he specializes in brain tumor surgery, stereotactic radiosurgery, spinal surgery, and functional neurosurgery (deep brain stimulation for Parkinson's Disease and tremors).
2021
Hedy Wald, PhD
Clinical Professor, Family Medicine, Warren Alpert Medical School of Brown University
Hedy S. Wald, PhD is Clinical Professor of Family Medicine at the Warren Alpert Medical School of Brown University and Faculty, Harvard Medical School Pediatrics Leadership Program. Dr. Wald has been honored with Dean's Excellence in Teaching Awards, served as a Fulbright Scholar in medical education for the Ben Gurion University of Health Sciences Faculty of Medicine in Israel, and is a Gold Humanism Foundation Harvard-Macy Scholar. She holds an appointment as a Commissioner for the international Lancet Commission on Medicine and the Holocaust. Dr. Wald presents invited keynotes, plenaries, and experiential workshops for faculty retreats, trainee sessions, and international conferences on promoting resilience, wellbeing, and vitality in health professions education and practice as well as on Holocaust and medicine education for resilient professional identity formation, some of her research interests. She presents internationally on reflective writing-enhanced reflection to support professional identity formation in health professions education and has published widely on this, including guest editing a collection of articles for an Academic Medicine theme issue on Professional Identity Formation. Frameworks for assessing reflection and for guiding faculty in crafting quality written feedback to students' reflective narratives which Dr. Wald helped develop are currently in use worldwide within health professions education. Her creative writing, reviews, and poetry have appeared in literary and medical journals as well as medical education blogs. Her work has been cited in the NY Times, Wall Street Journal, LA Times, Chicago Tribune, and Jerusalem Post. 
2020
Benjamin C. Reese Jr., PsyD
Adjunct Professor, Psychiatry & Behavioral Sciences, Family Medicine & Community Health, Psychology and Neuroscience
Dr. Reese is a clinical psychologist and president of BenReese, LLC., a North Carolina (USA) based global diversity, equity, and inclusion consulting firm. He is adjunct professor in the departments of Psychiatry and Behavioral Sciences, Community Medicine & Family Health, and Psychology and Neuroscience at Duke University. He is the former Vice President for Institutional Equity and Chief Diversity Officer for Duke University and the Duke University Health System.
Dr. Reese has served as the Associate Director of the Fifth Avenue Center for Counseling & Psychotherapy in New York City, the founder and Director of the Institute for the Study of Culture & Ethnicity, and the Ombudsperson for the Rockefeller Foundation.
He has 50 years' experience in the fields of implicit bias, systemic and structural racism, and diversity, equity, and inclusion strategy, working in person and online. Dr. Reese is a highly sought after national and international speaker, workshop facilitator and consultant to higher education, healthcare, not-for-profit organizations, and the corporate environment. His over 100 consultations include implicit bias workshops for over 50 colleges and universities in North America, as well as the U.S. Secret Service, and the U.S. Justice Department. He has provided invited addresses and workshops on various diversity and inclusion topics at Tel Aviv University, Hebrew University, the University of Canterbury in New Zealand, the University of Adelaide in South Australia, the University of East London and Coventry University in the United Kingdom, as well as presentations in Ireland, China, Haiti, Ethiopia, Tanzania, Argentina, Brazil, and Bermuda.
He has represented both the International Council of Psychologists and the World Federation for Mental Health (non-governmental organizations) at the United Nations. Dr. Reese is a past president of the National Association of Diversity Officers in Higher Education (NADOHE) and served on its founding board.  He is a member of the North Carolina Advisory Board of the Full Frame Documentary Film Festival and is a Board Member of The Center for Documentary Studies at Duke University.
Dr. Reese has garnered numerous awards and citations. In 2016, the North Carolina Business Journal awarded him their Lifetime Diversity Achievement Award in recognition of almost 50 years of leadership in the areas of race relations and diversity.
2019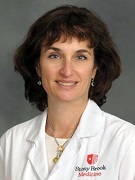 Lisa Strano-Paul, MD, FACP
Professor of Clinical Medicine, Renaissance School of Medicine at Stony Brook University
Dr. Strano-Paul is the Assistant Dean for Clinical Education for the School of Medicine and Course Director of the Primary Care Clerkship.  Her educational focus has been on Professional Identity Formation throughout the medical school curriculum, and she has experience developing curricular innovations that focus on enhancing learners' professionalism and interprofessional team skills in order to improve patient care.
Dr. Strano-Paul led sessions titled, "Conversations about Professionalism" and "Professionalism & Professional Identity Formation at RSOM (Renaissance School of Medicine)" respectively. Attended by over 80 faculty members, Dr. Strano-Paul facilitated productive discussions, one of which included examples from the Willowbrook Hepatitis Experiments and relevant case studies from her experience in geriatric medicine.
2018
Anne Phibbs, PhD
President, Strategic Diversity Initiatives

Anne Phibbs, PhD is Founder and President of Strategic Diversity Initiatives and brings over 25 years' experience helping organizations advance their equity, diversity, and inclusion goals.  Anne has extensive experience in training, teaching, curriculum development, and training of trainers, and has delivered workshops and classes to participants in corporate, government, higher education, nonprofit, healthcare, and faith community settings.  Anne served as GLBT Student Services Director at Metropolitan State University, and at the University of Minnesota she served as Director of the GLBTA Programs Office and Director of Education in the Office for Equity and Diversity.  Anne built a successful diversity and inclusion leadership program at the University of Minnesota, with a focus on emotional intelligence (EI), and she is an EI Practitioner certified in the EQ-i2.0 and EQ360 method.  Anne earned her PhD in Philosophy and Feminist Studies from the University of Minnesota and lives in Minneapolis.
Workshop Slides — Authority to Ally | Lecture Slides – Making It Better
---
2017
David C. Leach, MD
Former Executive Director of the Accreditation Council for Graduate Medical Education (ACGME)


He is a previous recipient of the Abraham Flexner Award for Distinguished Service to Medical Education, and in 2004, Dr. Leach was inducted into the Gold Humanism Honor Society. He currently resides in Asheville, NC.
| | |
| --- | --- |
| Professionalism: Noun or Verb? | Professionalism: Moving from Rhetoric to Poetry |
---
2016
Yvonne Steinert, PhD
Professor of Family Medicine
Richard and Sylvia Cruess Chair in Medical Education
Director of the Centre for Medical Education

Dr. Steinert is actively involved in undergraduate and postgraduate medical education, educational research, and the design and delivery of faculty development programs and activities. Her research interests focus on teaching and learning in the health professions, the impact of faculty development on the individual and the organization, and professional identity formation.
---
2015
Fred Hafferty, PhD
Professor of Medical Education
Division of General Internal Medicine and Program in Professionalism and ValuesDr. Hafferty received his undergraduate degree in Social Relations from Harvard in 1969 and his PhD in Medical Sociology from Yale in 1976. He is is a nationally recognized expert on professionalism and professional identity from the Mayo Clinic in Minnesota.
---
2014
Elizabeth Gaufberg, MD, MPH
Associate Professor of Medicine and Psychiatry at Harvard Medical School
Director of the Cambridge Health Alliance Center for Professional Development

Alice Chuang, MD, MEd
Clinical Associate Professor, Department of Obstetrics and Gynecology
Clinical Assistant Professor, Department of Radiology
---
2013
Kelly Dore, PhD, MEd
Health Research Methodology Program
Assistant Professor in the Department of Medicine Associate Member, Department Clinical Epidemiology and Biostatistics at McMaster University
---
2012
Thomas Inui, MD
Director of Research at Indiana University Center for Global Health & Research
Scientist at Indiana University Center for Health Services and Outcomes Research
---
2011
Richard Cruess, MD
Professor of Orthopedic Surgery
Served as Chair of Orthopedics (1976-1981) and Dean of the Faculty of Medicine (1981-1995) at McGill UniversitySilvia Cruess, MD
Endocrinologist, Professor of Medicine
Served as Director of Metabolic Day Center (1968-1978) and as Medical Director of the Royal Victoria Hospital (1978-1995) in Montreal